MOVE General Assembly (second session)

As part of MOVE Welfare Organization, hosting of General Assembly 2021. We are pleased to announce the decisions of the General Assembly conducted on 14 November 2021 in Kabul HQ.
MWO general assembly meets in regular sessions in each working year. In 2021 the first session was conducted on 07 January 2021. The MWO new trustee board was introduced, and the directorate board reported the main achievements of 2020 to the General Assembly. The second session was conducted on 14 Nov 2021, and discussed specific issues through dedicated agenda items, which lead to the adoption of the organization to a new pathway.
The event was formally launched and facilitated by the Executive Director. During his speech to the assembly, He added, It is my great pleasure to invite the trustee board and other assembly members, to join us for the improvement of organization status, after such a difficult year for everyone around the world impacted by the COVID-19 pandemic, and political changes in our country, it seems right that we come together again to improve the MWO management capacities and share our experiences and learn from each other to continue our strengthen goals and minimized the gaps.
Also, He added, in this session of the General Assembly, we have the chance to thank the hard work of the General Director and his management team, they have done during the last years. We are excited to have the chance to elect the new General Director and get the approval of trustee board members for MWO's future leadership and management of the organization.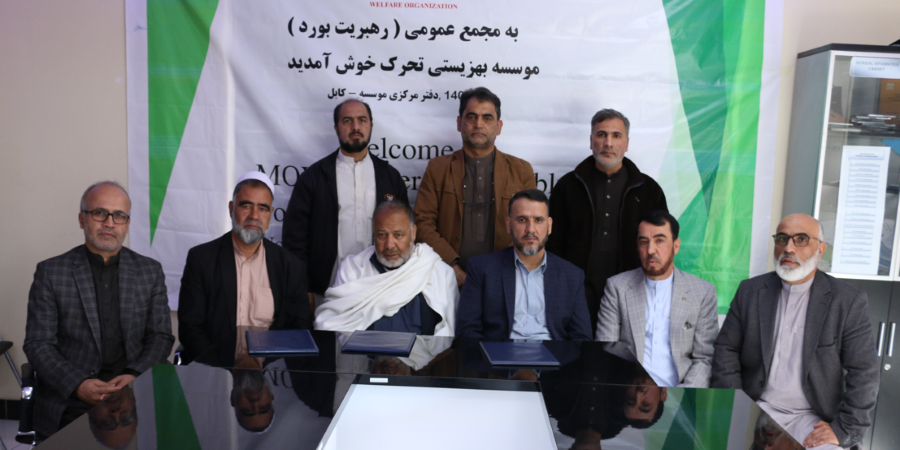 After completion of procedures and announcement of the candidates. Among the four candidates, Eng. Ghulam Nabi Khan Agha gets the majority of the votes and he selects as General Director of MWO for the next period.
During the assembly, the MWO trustee board approved the election methods, and congrats to the new general director.
The new general director had an introductory speech on how to promote the organization's working extent, and he added, he needs full support from MWO teams.
There was organization status, achievement, challenges, financing, operating and management presentation, and back and forth, to have directions of the trustee board and MOVE management team.
As part of assembly activities, the organization updated policies, rules, and regulations documents presented to the trusty board and received their approval for implementation.